Silverline Light Crane Systems are built with Light Weight Sheet Metal Material. The final Designed Profile is Strong enough to carry load upto 2000 Kgs. The Structure can be designed to suit the Shop or Standard Design can be obtained from Silverline. These Profile Can be Bolted in position and no Welding is required on site. This section can be bend to Achieve Small Turing Radius.
These Profiles can be supplied in High Quality Antirust Painting / Hot Dip Galvanished Steel. Long & Cross travel movements are push pull type which reduces Power Consumption & avoids Complicated control panels.
PAMPLET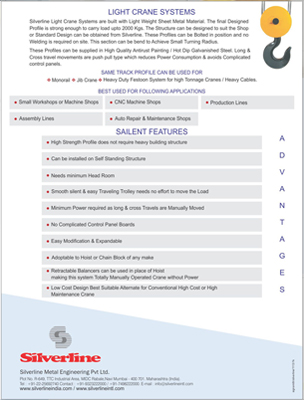 A) JIB Cranes :
The JIB Cranes made by Silverline offer.
Complete range of solution for the handling of loads up to 2.000Kgs, the JIB cranes are available in manually rotated on self standing column or wall mounted designed to handle the goods inside or on open area of the plant.
Jib crane can rotate up to 180 to 270 degrees. Jib crane capacity will be minimum 125 Kgs to maximum 2000 Kgs
Totally sheet metal fabricated design light body weight based on in-depth knowledge of sheet metal fabrication/painted to with stand severe weather conditions. Silverline has more than 25 years of experience in metal fabrication and design. We also manufacture light cranes which are technically innovative and offer excellent value for money. The components used are of the highest quality, which is long-lasting and economical built by Silverline, The leading Indian Company
B) Light Cranes :
Silverline light crane systems are built with Light weight sheet metal Material. The finely designed profile is strong enough to carry load Up to 2000kgs. The structure can be designed to Suit the shop or standard design can be obtained from Silverline .
These profiles can be bolted in position and no welding is required on site. This Section can be bend to achieve small turning radius.
These profiles can be supplied in high quality antirust painting / hot dip galvanized steel. Long & cross Travel Movements Are Push Pull Type Which Reduces Power Consumption & Avoids Complicated Control Panels.
Same Track Profile can be used for :
» Monorail
» Jib Crane
» Heavy duty festoon system for high Tonnage cranes / Heavy Cables
Best Used For Following Applications :
» Small workshops or machine shops
» Assembly lines
» CNC machine shops
» Auto repair and maintenance shops
» Production lines
Advantages :
» High strength profile does not require heavy building structure
» Can be installed on self standing structure
» Needs minimum head room
» Smooth silent and easy travelling trolley needs no effort to move the load
» Minimum power required as long and cross travels are manually moved
» No complicated control panel boards
» Easy modification and expandable.
» Adoptable to hoist or chain block of any make
» Retractable balancers can be used in place of hoist.
» Making this system totally manually operated crane with out power
» Low cost design best suitable alternate for conventional high cost or high maintenance crane.
» High Strength Profile Does Not Require Heavy Building Structure
» Can Be Installed On Self Standing Structure
» Needs Minimum Head Room
» Smooth Silent And Easy Travelling Trolley Needs No Effort To Move The Load
» Minimum Power Required As Long And Cross Travels Are Manually Moved
» No Complicated Control Panel Boards
» Easy Modification And Expandable
» Adoptable To Hoist Or Chain Block Of Any Make
» Low Cost Design Best Suitable Alternate For Conventional High Cost Or High Maintenance Crane
C) Monorail Hoist :
We are suppliers ,exporters, and manufacturers of monorail hoist world wide.These products are made up of high quality steel materials. we have featured with reliable safe mark and gorgeous design, single rails with larger capacity.
» Application
» Lathe
» Automobile industries.
» Mechanical lathes for east transportation of loads.
D) Track for Light :