20 Years from now Silverline Metal Engineering Pvt. Ltd. Will be well known for its worlds class product and will be best compared to its counterparts


We will have our own manufacturing facilities in all leading countries doing business. All the manufacturing units will be eco-friendly and will have desired, comfortable work spaces for employees.


Silverline will became a public limited company and its share will traded in Bombay Stock Exchange and New York Stock Exchange


Silverline will declare bonus share every alternate year.


We will have our headquarters and corporate office in one of the prime real estates in Mumbai


Silverline will be known as "Great Place to work" and every professional will be proud to join us. The employees will have an opportunity to grow, develop, free to execute their ideas and thus will help to convert the aspirations of our employees into reality


We will have cream layers of students from all major universities and best local talents employed.


Community payback is our major goal along with organizational growth. To fulfill this goal, we will have schools built for children in remote places of India.


All important publications will take note of Silverline' s growth. It will be treated as a case study in business management schools.


We will strive to be a cash rich company with marginal borrowing


We must have patented at least 10 products by 2033 and achieved rewards and recognition in our area of work


We will diversify our products and services and continue to expand world wide


Having done all the above "Silverline" will be a brand name known to every individual in the world.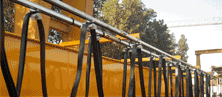 Visitors:-