Festoon Systems for Round and Flat Cable
We at, silverline metal engineering private limited are the well-known pioneers in manufacturing and exporting a wide range of festoon systems. The festoon system is also known as enclosed C-track festoon system as the system is fully enclosed from all sides thus preventing the dust and dirt from entering the system and blocking it. We manufacture these products known for its better strength and load bearing capacity. It can take loads of more than 50kg / mtr. The price of our products is very cost-effective. All the products are listed under the major categories as follows are track for trolley 4500 mm, c-channel for support 500 mm, track coupler, track clamp, towing trolley, towing arm, wire clip plastic, end stop, flat cable trolley, round cable trolley, pendant trolley, C- channel cleat, track clamp and fixed trolley.

Curved Festoon
Track For Trolley
Possessing well organized distribution network, we offer an assorted range of Track For Trolley-4500 mm to cater for huge industrial demand. We manufacture these tracks using finest quality G.I. sheets. The thickness is 1.5 mm and length of each track is 4500mm. The profile of the track is such that it can take higher loads than the conventional C-type tracks. It can take a total load of more than 50kg/metre. Since the track is made from G.I. sheets, there is no chance of corrosion. We give accurately rolled tracks so that there is no problem during the coupling of tracks.
C - Channel
Backed by the excellent state-of-art infrastructure, we manufacture and export an ample range of C-channel for support-500 mm. C-channels are used for supporting the festoon tracks. We use G.I. sheets for manufacturing these supports to prevent corrosion. The C-channels are fitted to the girder by bolting with C-channel cleat, which in turn is welded to the girder. It is available with us in the various lengths such as 250mm, 500mm, 700mm 800mm, 1100mm and 1400mm.
Track Coupler
This coupler is used to join two festoon tracks. It has four bolts for stronger and better gripping of the tracks. We offer the coupler with a thickness of 2 mm, and is zinc plated to avoid corrosion.
| | | |
| --- | --- | --- |
| Product No. | Thickness | Material |
| CRT-03 | 2 | C.R.C.A |
Track Clamp
These track clamps are used for clamping the festoon tracks to the C-channels. These are basically the link between the C-channel and the festoon track.
| | | |
| --- | --- | --- |
| Product No. | Thickness | Material |
| CRT-04 | 4 | C.R.C.A |
Towing Trolley
Towing trolley is the leading trolley in the festoon system and drags all the trailing trolleys with it. It has 8 bearings which gives it better stability and strength. The towing arm is inserted inside the towing trolley and moves with the hoist. The towing trolley is made of CRCA and is plated to prevent corrosion. Hooks are given in order to allow free rotation of the trolley thus preventing tangling of cables.
| | | |
| --- | --- | --- |
| Product No. | Thickness | Material |
| CRT-05 | 4 | C.R.C.A |
End Cap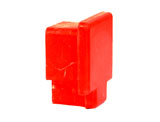 Following the guidance of our skilled professionals, we manufacture these very fine qualities End Caps. These end caps are used to cover the festoon tracks from both the ends. It prevents the entering of dust and other particles and makes the system look aesthetically beautiful.
| | | |
| --- | --- | --- |
| Product No. | Thickness | Material |
| CRT-08 | 3 | C.R.C.A |
Flat Cable Trolley
We are proud to offer a wide range of best selling Flat Cable Trolley in the market. They are widely used for many industrial purposes such as overhead cranes for the transmission of power and control cables for cross travel as well as long travel. These trolleys are very smooth in operation and can be used for round cables as well as flat cables. We provide saddles of width 70mm and 93mm based on the number of cables. Free movement of the saddle allows the cables to untangle.
| | | |
| --- | --- | --- |
| Product No. | Thickness | Material |
| CRT-10 | 2.8 | C.R.C.A |
Pendant Cable Trolley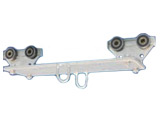 Pendant trolley is used to carry the pendant cable. It is the leading trolley in the system and is provided with 8 bearing for better strength and stability. The pendant cable is passed through the hook and can be plugged to the trolley. Holes are provided on the trolley to insert the plug/socket.
| | | |
| --- | --- | --- |
| Product No. | Thickness | Material |
| CRT-12 | 5 | C.R.C.A |
Festoon System Assembly
Wire Clip